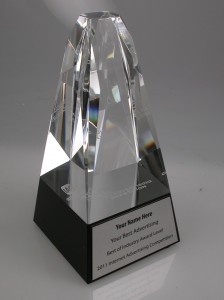 The Web Marketing Association announces that the Best of Show winners of the 13th annual Internet Advertising Competition (IAC) Awards will be announced at a special presentation at the ad:tech San Francisco Conference May 21st at noon on the Keynote stage. The IAC Awards are the first and only industry-based advertising award competition dedicated exclusively to online advertising. This international award program evaluates all forms of online advertising, including email, page-based ads, online newsletters, mobile apps, Websites, video and social media in 86 industry categories.
"The Web Marketing Association has had a long standing relationship with ad:tech conferences," said William Rice, President of the Web Marketing Association. "It is a natural progression to use this industry-leading conference as a platform to announce the IAC Best of Show awards".
The two-day ad:tech San Francisco event will take place on May 20-21, 2015, and will feature an expo floor showcasing the latest products and services, breakout sessions and keynotes led by established brands and agencies and much more!
"We are excited to host the announcement of the Best of Show winners of the 13th annual Internet Advertising Competition (IAC) Awards," said Kimberly Dunn, marketing director for ad:tech. "Recognizing achievements in the various digital marketing disciplines is important to the continued advancement of our industry."
IAC Best of Show Awards will be presented within each of following advertising formats:
Best Social Media Campaign
Best Online ad (including banner, pop-up or interstitial)
Best Rich media online ad
Best Email message
Best Online newsletter
Best Website (including best landing pages and best microsites)
Best Online video
Best Mobile applications
Best Integrated ad campaign
Best of Industry and Outstanding Online Advertising IAC Winners will be announced online during the second week of April. The Top Agency and Outstanding Advertising Developer IAC Awards will also be announced in April.
Judging for the IAC Awards takes place in February and March 2015. Judges consist of a select group of Internet advertising professionals with an in-depth understanding of the current state-of-the-art in Web advertising. Competition judges include top executives from leading corporations, institutions and media organizations such as Arc Worldwide, Brunner Digital, Campbell-Ewald, CNN News Group, Deep Interactive Asia, Digitas, EuroRSCG 4D, Google, IBM Interactive, imc2, JWT, LeapFrog Interactive, Mass Transmit, McCann Worldgroup, Razorfish, Starwood Hotels & Resorts, Tectis GmbH, TMP Worldwide, Universal McCann Interactive and Wunderman / Y&R.
The 2015 Internet Advertising Competition Awards are sponsored by Burst Media, Small Army, Vertical Response, EContent Magazine, ad:tech conferences, Clickz Live, Webmaster Radio and Website Magazine.
A complete list of past winners can be found at the IAC Award Website.
About ad:tech
ad:tech is a conference and exhibition where the marketing, technology and media communities come together to share new ways of thinking, build strong partnerships, and define new strategies to address key industry challenges and opportunities. Several annual events around the world focus on top-notch education through keynote speakers, topic-driven panels and workshops as well as showcase the latest products and services to help deepen understanding and create new ideas that will drive business forward. Attendees leave ad:tech with the tools and techniques they need to compete in an ever-changing marketplace. For more information, visit www.ad-tech.com.
About the Web Marketing Association
The Web Marketing Association is an organization working to create a high standard of excellence for Web site development and marketing on the Internet. Staffed by volunteers, it is made up of Internet marketing, advertising, PR and design professionals who share an interest in improving the quality of online advertising, Internet marketing and promotion used to attract visitors to Web sites. The Web Marketing Association's annual award programs, the WebAward Competition, the Internet Advertising Competition Awards and the MobileWebAwards, have been helping interactive professionals promote themselves, their companies, and their best work to the outside world since 1997.