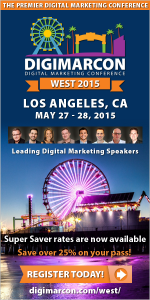 The Web Marketing Association is pleased to offer a chance to win a full conference pass to the industry conference – DIGIMARCON (May 27-28) to web professionals who enter this drawing.
DIGIMARCON WEST 2015 Digital Marketing Conference will be held from May 27th to 28th, 2015 at the luxurious Loews Santa Monica Beach Hotel, Santa Monica, CA. This conference showcases the most audacious and thought provoking speakers in the digital marketing industry, providing attendees with emerging strategies, the latest innovative technologies, best practices, and insights from successful digital marketing campaigns.
Click here to enter to receive a full conference pass. Deadline to enter is May 5th.