There are four WebAward award levels each year:
Best of Show Web Site — There can only be one web site voted "2015 WebAward Best of Show". The Internet professionals responsible for creating this site will receive special recognition in addition to a personalized plaque to announce this highest achievement.
In 2014, the winner is Intouch Solutions the Best of Show WebAward for their exceptional work on "PillCamCrohns.com" website.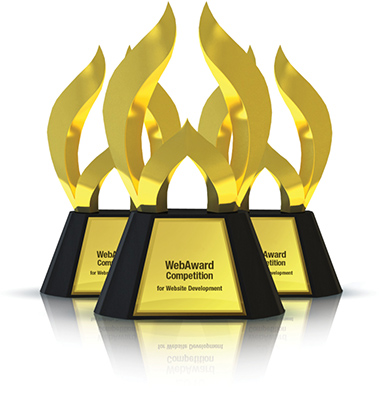 Best Web Site of Industry — This WebAward is a head-to-head competition against those sites entered in the same industry category.
The WebAward Best of Industry Statue stands an impressive 10″ tall and 6.5″ wide and will stand out in anyone's trophy case. It was designed for the Web Marketing Association by the world renowned artists at Society Awards, makers of awards for MTV Video Awards, Golden Globes, Country Music Awards and other notable award programs. Representing sculptural art with our iconic W in a flame motif, our trophy is a symbol of achievement for our industry.
Outstanding Web Site — Recognizing that several outstanding sites may be entered in the same category and only one site can win Best of Industry, this award allows the Web Marketing Association to recognize work above and beyond the standard of excellence. Entries who score 60 points and above, but are not selected as a Best of Industry will receive a personalized WebAward certificate recognizing their achievement.

Standard of Excellence — This WebAward recognizes the standard of excellence for which all Web sites should strive. Winners at this level demonstrate that their site is above average and will receive a personalized WebAward certificate for their efforts.
In addition to the site awards, the Web Marketing Association recognizes the companies and agencies that excel in development of multiple websites.
Top Agency Award – This highly regarded award recognizes consistency of effort and is given to the interactive agency that wins the most WebAwards in a given year. All locations and offices of a specific agency will be consolidated for the purpose of determining the winner of this award.
Each entrant will be awarded points based on the level of award for each award received. A Best of Show will be worth 10 points, Best of Industry 5 points and each Outstanding award 3 points and a Standard of Excellence 1 point. The agency with the most points will be awarded the Top Agency Award.
Outstanding Website Developer Award – For those companies or agencies that win 6 or more WebAwards this year, The Web Marketing Association will recognize them with a new Outstanding Website Developer award to recognize their outstanding achievement across many different sites. In 2014, nineteen agencies qualified for this award.
All website award winners will have their award winning web sites highlighted on the WebAwards web site in our winner's database and on their own personal winner's page. Web site award winners will also be offered an icon link that can be added to their Web site recognizing their achievement. A press release and PR campaign will also be used to announce the winners to the world.
Enter the 2015 WebAward Competition in order to win the recognition you deserve!