Web Marketing Association announces that winners of the 2022 WebAward Competition for Website Development will be eligible to receive a Non-Fungible Token (NFT) of their award. It is believed that the WebAward's are the first marketing award program to offer NFTs to award winners.
"As Web3 continues to evolve, web Marketing Association thought it would be important to recognize this evolution by offering an NFT to our winners", said William Rice, President of the Web Marketing Association. "We are developing a process so that participants in an award winning website can demonstrate their success to the world."
Non-Fungible Tokens (NFT) are digital assets traded over the internet that represents real-world objects, in this case recognition for outstanding website development. NFTs are popular today because they offer a unique marketplace to collect digital assets.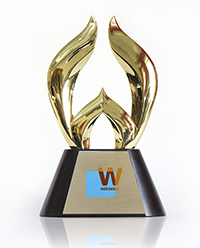 In the past, WebAward winners received a beautiful statue to recognize their winning website. Representing sculptural art with our iconic W in a flame motif, our trophy is a symbol of achievement for our industry. The WebAward Best of Industry Statue stands an impressive 10″ tall and 6.5″ wide and will stand out in anyone's trophy case.
They also received a listing on our coveted website at www.WebAward.org. This Winner's Page features a screenshot from the "award-winning website" and can also lists the contributing individuals to the project. This page helps in Search Engine Optimization (SEO) and link building credibility from our highly rated site.
WebAward Winners will continue to receive these benefits as well as receiving the new NFTs that can be used by participants to demonstrate their "award-winning" capabilities.
The WebAwards are the standards-defining competition that sets industry benchmarks based on the seven criteria of a successful Web site.  This esteemed award program recognizes the individual and team achievements of Web professionals in 90 industries all over the world who create and maintain outstanding Web sites.  The deadline for entry for the 2022 WebAwards is May 31, 2022.  A complete list of past winners and this year's entry form can be found at www.webaward.org.