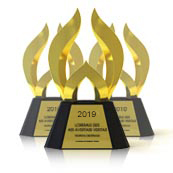 The Web Marketing Association is pleased to announce the winners of its 23rd annual WebAward Competition for Web site development. Entries from 43 countries were adjudicated in 96 industry categories during this year's competition. Entries were judged on design, copy writing, innovation, content, interactivity, navigation, and use of technology.
A complete list of the winning sites can be found at the WebAward Web site at www.webaward.org.
Best of Show
The 2019 Best of Show WebAward is presented to UP Hotel Internet Marketing for their outstanding work on Qbic.  The site was also recognized as Best Hotel and Lodging Website.  Qbic's first London hotel is at the heart of what is London's most lively square mile with some of the city's best street food, art galleries, boutiques, creative businesses and nightlife, all glued together with local people who make it more than just a tourist spot. Qbic is now broadening its reach to Brussels and Manchester and positioning itself as a hotel group.
Top Agency
WSI was named Top Agency at the 2019 WebAward Competition, taking home 15 WebAwards and earning 45 quality point this year. The Top Agency Award is given to recognize the consistently outstanding development going on at interactive firms.  The agency was recognized in the 2019 WebAwards for Best B2B Website, Best Medical Website, Best Restaurant Website, Best Home Building Website, five Outstanding Website WebAwards and six Standard of Excellence WebAwards.
WSI is the largest digital marketing network of its kind and have partners and clients in every corner of the world. We have the passion and expertise to help any business do better marketing – no matter where they are located.
13 agencies or companies were also recognized as Outstanding Website Developer for winning six or more WebAwards in 2019. They include:
AGENCY (Number of Awards)
TMP Worldwide 14
Forum One 10
Vital 10
Postali LLC 9
Patients & Purpose 8
theOrigo Ltd.8
Thomson Reuters 8
UP Hotel Internet Marketing 7
TravelClick an Amadeus company 7
Miles 6
TopSpot Marketing 6
Scorpion 6
eSolutionsGroup 6
Competition format
The competition was judged by a team of independent Internet professionals representing a variety of relevant disciplines of Web site development. Judges included members of the media, advertising executives, site designers, creative directors, corporate marketing executives, content providers and webmasters.
The WebAward competition format allows Web sites to compete head to head with other sites within their industry to win the Best of Industry award.  Entries also compete against a standard of excellence to win Outstanding Website and Standard of Excellence WebAwards.  Each site is judged on seven different criteria and earns a score between 0 and 70 points.  The highest score in a given category wins Best of Industry for that category. If the remaining entries receive a score of 60 or greater, they receive the Outstanding Web site award. Entries that score higher than their industry average and below 59.9 receive the Standard of Excellence.
The 2019 WebAwards are sponsored by the following leading organizations: PR.com, EContent Magazine, Webmaster Radio, iContact, and Website Magazine.