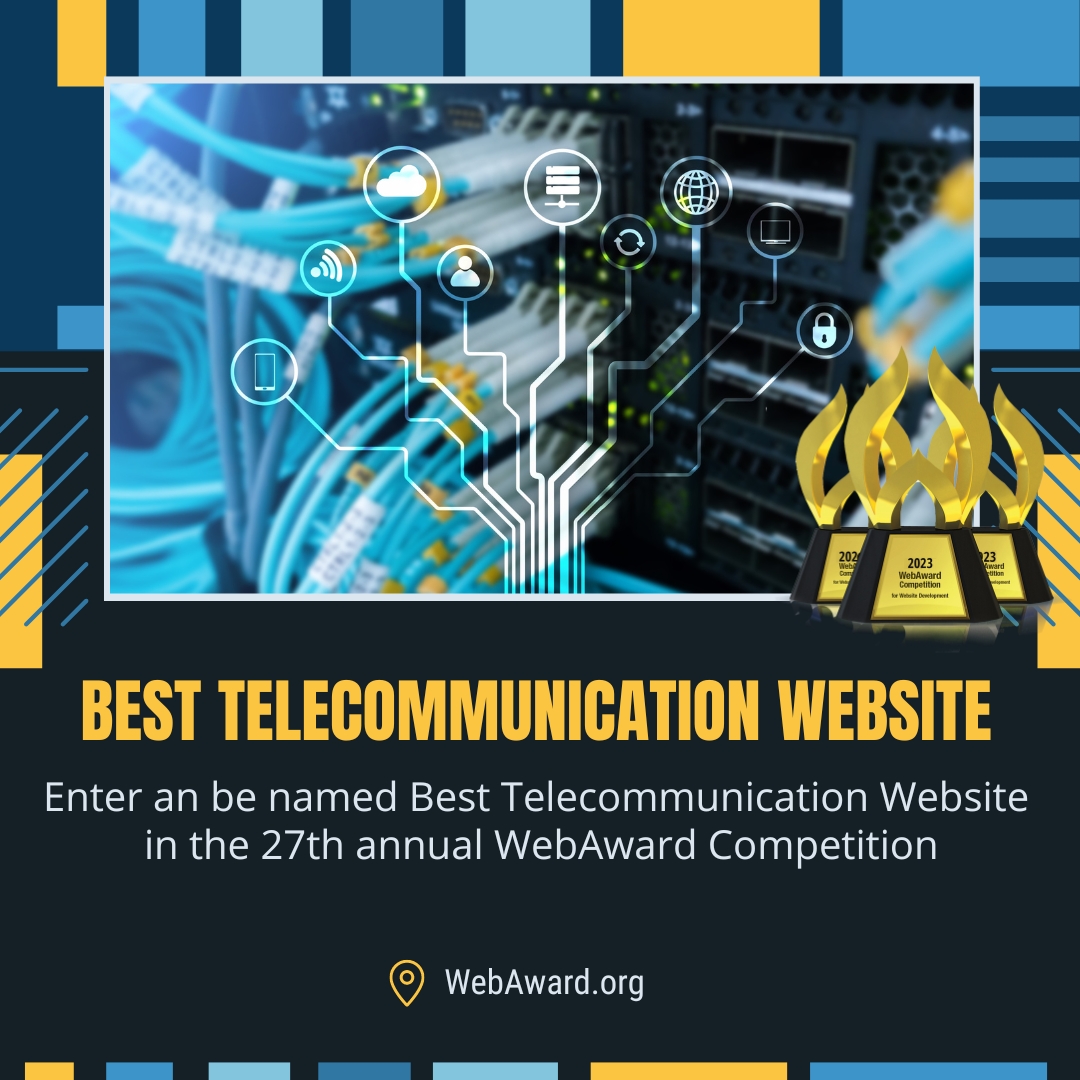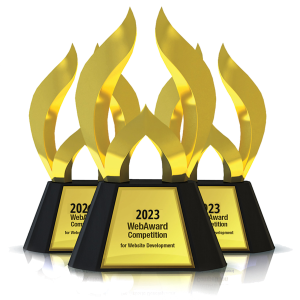 The Web Marketing Association is looking for the Best   Telecommunication Websites in the world as part of their 27th annual international WebAward Competition for Web site development at www.webaward.org. The WebAwards is the standards-defining competition that sets benchmarks for 86 industries, including Telecommunication websites, based on the seven criteria of a successful web site. The deadline for Telecom websites to enter to be judged is May 31, 2023.
"In the telecom industry, a website can be a powerful tool for showcasing your products, services and expertise" said William Rice, President of the Web Marketing Association. "The WebAward Competition provides a platform digital agencies and organizations that create these for telecommunication company websites to showcase their creativity, innovation and effectiveness in driving business growth, solving complex problems and shaping the future."
Web sites are judged on seven criteria including design, innovation, content, technology, interactivity, copy writing and ease of use. Each WebAward entry in the Telecommunication category is judged against other Telecom entries and then against an overall standard of excellence.
All Telecommunication entrants benefit from receiving valuable feedback in terms of their specific scores compared against the average scores for their industry. They also may receive specific comments from the WebAward's professional judging panel on their Web site development efforts.
Winners of a WebAward in the Telecommunication category will also receive:
        Handsome statue or certificate of achievement
        A limited-edition Commemorative NFT
        Increased visibility for their company
        Marketing opportunity to promote the company website to the media
        Links to your site from the highly ranked WebAward site to help SEO
        A highlight for your resume.
        Admiration of peers, friends and co-workers
        Unlimited bragging rights
Winners of the 2023 WebAward Competition Telecommunication Website will receive a commemorative NFT to recognize their success. The Web Marketing Association WebAward Competition is the first award program to provide its winners a limited-edition Ethereum-based Non-Fungible Token (NFT) to commemorate their award-winning website achievement.
Each year the Web Marketing Association names the Best Telecommunication Website based on the scores submitted by the competition judges.
Past winners of the Best Telecommunication Web site include:
2022 – Reach Mobile for Reach Mobile Website
2020 – Primary Wave Media for RingBoost Custom Phone Numbers
2019 – TMP Worldwide for AT&T Career Website
2018 – Stray Media Group LLC for gondtc.com Website Redesign
2017 – ShoreTel Web Team for ShoreTel, Inc.
2016 – ShoreTel, Inc. for ShoreTel Website
2015 – Cricket Wireless Digital Experience and Development Teams for Cricket Wireless
2014 – Risdall Advertising Agency for Spanlink
2013 – Red Clay Interactive for SouthernLINC 3G
2012 – LBi for Xperia Studio
2011 – TELUS Enterprise Solutions for Enterprize. Power to Solve
2010 – NeboWeb for Vocalocity Website Redesign
2009 – Grasshopper.com for Grasshopper
2008 – These Days for Nokia Finland – Daniel Goodall for Nokia Jealous Computers
2007 – Arnold for Vonageland
2006 – Teehan+Lax for TELUS Mike Microsite
2005 – Disney Mobile Studios for Disney Mobile Studios
2004 – Organic, Inc. for Sprint PCS Ready Link
2003 – THINK for BellSouth e-Bill Flash Demo
Telecommunication Websites can be entered into consideration for the 2023 Best Consumer Goods Website WebAward at the WebAward Website.
The 2023 WebAwards are sponsored by the following leading organizations: PR.com, iContact, and eTailConferences. The Web Marketing Association thanks these companies for their commitment to the entire online marketing community.
Please Join the Web Marketing Association on Social Media: LinkedIn Page, LinkedIn Group & Twitter. Like and follow for news and award updates!