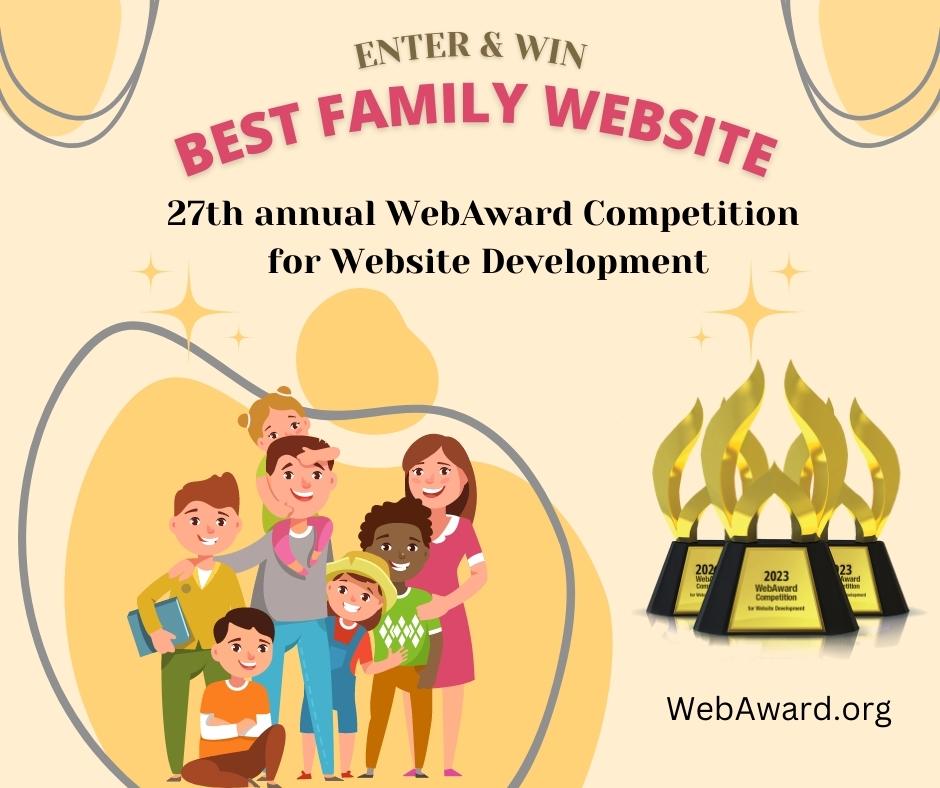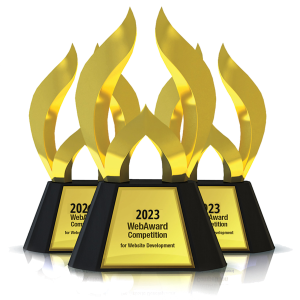 The Web Marketing Association is looking for the Best Family Websites in the world as part of their 27th annual international WebAward Competition for Web site development at www.webaward.org. The WebAwards is the standards-defining competition that sets benchmarks for 86 industries, including Family friendly websites, based on the seven criteria of a successful web site. The deadline for family websites to enter to be judged is May 31, 2023.
"In the family arena, a website can be a powerful tool for providing resources, support, and education to families" said William Rice, President of the Web Marketing Association. The WebAward Competition provides a unique opportunity for interactive agencies and organizations that create these family websites to showcase their creativity, innovation and effectiveness in delivering valuable information and building a supportive network of parents and caregivers."
Web sites are judged on seven criteria including design, innovation, content, technology, interactivity, copy writing and ease of use. Each WebAward entry is judged against other entries in its industry category and then against an overall standard of excellence.
All entrants benefit from receiving valuable feedback in terms of their specific scores compared against the average scores for their industry. They also may receive specific comments from the WebAward's professional judging panel on their Web site development efforts.
Winners of a WebAward in the Family category will also receive:
Handsome statue or certificate of achievement
A limited-edition Commemorative NFT
Increased visibility for their company
Marketing opportunity to promote the company website to the media
Links to your site from the highly ranked WebAward site to help SEO
A highlight for your resume.
Admiration of peers, friends and co-workers
Unlimited bragging rights
Each year the Web Marketing Association names the Best Family Website based on the scores submitted by the competition judges.
Here are the past Best Family Website WebAward winners:
2022 – Forum One for ZERO TO THREE 2022 State of Babies Yearbook
2021 – The Family Cookbook Project for Familycookbookproject.com
2020 – Carnegie Museum of Natural History for CARNEGIE MUSEUM OF NATURAL HISTORY WEBSITE
2019 – PriceWeber for StepStone Family and Youth Services
2018 – The Family Cookbook Project for www.Familycookbookproject.com
2017 – WSI – ACADEMIA DE COCINA LA FAVORITA for Academia de Cocina La Favorita
2016 – Shire & Matchpoint for Las Vidas de Mario
2015 – Extractable for LeapFrog
2014 – Risdall Advertising Agency for Help Me Grow MN
2013 – Northwest Media, Inc. for FosterParentCollege.com
2012 – Family Days Out Ltd for Familydaysout.com
2011 – Modus Associates & Sittercity, Inc. for Sittercity.com Product Transformation
2010 – Arkansas Department of Parks and Tourism for www.ArkansasKids.com
2009 – Cozi for Cozi Website
2008 – JETSET STUDIOS for Bee Movie Official Movie Website
2007 – Six Flags for SixFlags.com
2006 – Familycookbookproject.com for The Great Family Cookbook Project
2005 – Family Cookbook Project for FamilyCookbookProject.com
2004 – Zipatoni for Bring Elsie Home
2003 – BabyCenter.com for BabyCenter
Family-related websites can be entered into consideration for the 2023 Best Family Website WebAward at the WebAward Website.
The 2023 WebAwards are sponsored by the following leading organizations: PR.com, iContact, and eTailConferences. The Web Marketing Association thanks these companies for their commitment to the entire online marketing community.
Please Join the Web Marketing Association on Social Media: LinkedIn Page, LinkedIn Group & Twitter. Like and follow for news and award updates!