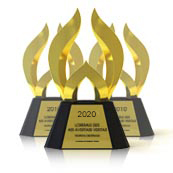 The Web Marketing Association is pleased to announce the winners of its 24th annual WebAward Competition for website development. Entries from 42 countries were adjudicated in 96 industry categories during this year's competition. Entries were judged on design, copy writing, innovation, content, interactivity, navigation, and use of technology.
A complete list of the winning sites can be found at the WebAward Web site at www.webaward.org.
" Website development is constantly evolving to take advantage of new technology and better meet the needs of the online audiences," said William Rice, President of the Web Marketing Association. "This year, the WebAwards competition received remarkable entries from around the world that show impressive creativity and functionality.   We congratulate all of our winners for developing websites that deliver for their audiences. "
Best of Show
The 2020 Best of Show WebAward is presented to Sapient Corporation d/b/a Razorfish for their outstanding work on Mercedes-AMG.  The site was also recognized as Best Automotive Website.  Mercedes-AMG is the performance wing of Mercedes-Benz. With a complete redesign, Publicis Sapient reinvigorated the brand with a focus on widening the audience while rewarding the hardcore fans. This more dynamic, immersive experience drove a increase in time spent on the page and had more users choosing to explore a vehicle and re-established the brand as a leader in automotive performance.
Top Agency
For the second year in a row, WSI was named Top Agency at the 2020 WebAward Competition, taking home 11 WebAwards and earning 33 quality point this year. The Top Agency Award is given to recognize the consistently outstanding development going on at interactive firms.  The agency was recognized in the 2020 WebAwards for Best Home Building Website and Best Political Website, six Outstanding Website WebAwards and three Standard of Excellence WebAwards. WSI is the largest digital marketing network of its kind and have partners and clients in every corner of the world. We have the passion and expertise to help any business do better marketing – no matter where they are located.
10 agencies or companies were also recognized as Outstanding Website Developer for winning six or more WebAwards in 2020. They include: FirmStudio Ltd (11 wins), Miles Partnership (10), Thomson Reuters – FindLaw (10), Forum One (10), Nebo (9), Vital (8), UP Hotel Internet Marketing (7), Postali, LLC (7), eSolutions Group (6) and 90 Degree Design (6).
Best of Industry Winners
The following companies were recognized with the top prize within their industry category:
Independent Creative Agency for &UGO – Best Advertising Website
Emakina Group for UnsmokeYourWorld.com – Best Advocacy Website
Websolute S.p.A. for Atlas Concorde – New digital ecosystem – Best Architecture Website
Midland Center for the Arts for Site redesign aimed at broadening patron connections successfully engages visitors via optimized navigation, mobile experience, and commerce integration. – Best Arts Website
Jake Group for Entertainment Software Association – Best Associations Website
Vital for PLT Health – Best B2B Website
Jack Henry & Associates / Banno Group for Think Bank – Best Bank Website
LEAP Amp for Lunazul Tequila – Best Beverage Website
22 Fillmore for Ikena Oncology Corporate Website – Best Biotechnology Website
Carnegie Museum of Natural History for Carnegie Museum of Natural History – Best Blog Website, Best Family Website
TopSpot Internet Marketing for Steel Warehouse Website – Best Catalog Website
Lenovo for Lenovo ThinkPad X1 Fold – Best Computer: Hardware Website, Best Marketing Website, Best Technology Website
Hypergiant Industries for Hypergiant Industries – Best Computer: Software Website
90 Degree Design for Equestrian Excellence with Buckley Fence – Best Construction Website
90 Degree Design for Bold and Fearless HR Consulting – Best Consulting Website
FirmStudio HK Web Design & Creative Digital Agency for Emphasis Jewellery Brand Website & Membership Portal – Best Consumer Goods Website
Family Cookbook Project for RecipeCardCookbook.com – Best Cooking and Recipe Website
ZAG Interactive for Andrews Federal Credit Union – Best Credit Union Website
Logitech for Start A Following – Best Design Website
Team SI / MHP for Uplift Arkansas – Best Directory or Search Engine Website
Ideas On Purpose for Raytheon Technologies Corporate Site – Best Diversified Business Website
Backpack Interactive for Passport 2 Mars – Best Education Website
Synopsys Corporate Marketing for Smart Everything Digital Experience – Best Electronics Website
BAYADA Home Health Care for BAYADA Home Health Care Careers Website – Best Employment Website
BrandExtract for Marathon Petroleum Corporation Website – Best Energy Website
NBCUniversal – E! Entertainment for Project-X: The new and completely responsive E! Online – Best Entertainment Website
Kawartha Conservation for kawarthaconservation.com – Best Environmental Website
Vital for Obstacle Course Racing World Championships – Best Events Website
Hong Kong Trade Development Council for HKTDC Product Magazines minisite – Best E-Zine Website
Westmont College for Westmont College Website – Best Faith-based Website
Cuker for Alp N Rock – Taking Apres-ski Fashion to New Heights – Best Fashion or Beauty Website
Mastercard for Mastercard.com Website Design – Best Financial Services Website
Abby Ryan Design for L.A. Creamery – Best Food Industry Website
Alexander & Tom, Inc. for Fort McHenry Virtual Tour – Best General Interest Website
Websparks Pte Ltd for Centre for Liveable Cities (CLC) – Best Government Website
Forum One for County Health Rankings – Best Health Care Website
Capital Caring Health Marketing & Communications for Capital Caring Health Corporate Website – Best Healthcare Provider Website
WSI for Van Beek's Landscaping Supply – Best Home Building Website
UP Hotel Internet Marketing for Maison Panth̬re РBest Hotel and Lodging Website
TrustedChoice.com for TrustedChoice.com 2020 Web Awards Entry – Best Insurance Website
Overdrive Interactive for Goltens Website Redesign – Best International Business Website
Acenda for ACE: Acenda Communications for Employees – Best Intranet Website
Cloud Construct for RA Capital – Best Investment Website
Zola Media for Surprenant & Beneski – Best Legal Website
TURNNT and Patients & Purpose for TURNNT: The Turning Point for Trans Health – Best LGBTQ Website
Hong Kong Trade Development Council for HKTDC  Enterprise Yearbook minisite – Best Magazine Website
Rightpoint for Knauf Insulation North America – Best Manufacturing Website
Progressive Productions for PROGRESSIVEPRODUCTIONS.EU – Best Media Website
Vital for AgaMatrix – Best Medical Equipment Website (tie)
Restorative Therapies, Inc. for Restorative Therapies Website Redesign – Best Medical Equipment Website (tie)
LivaNova for LivaNova – Best Medical Website
Realogy for Realogy Military Rewards Program – Best Military Website
 for Martin UAV – Best Mobile Website
theOrigo Ltd. & HK Phil for Hong Kong Philharmonic Orchestra – Best Music Website
Mairs & Power / SunStar Strategic for Mairs & Power Website – Best Mutual Fund Website
Vital for Zone Coverage – Best News Website
American Lung Assocation + Rise Interactive for Building a Healthier World with American Lung Association – Best Non-Profit Website
Sapient Corporation d/b/a Razorfish for Mercedes-AMG – Best of Show, Best Automobile Website
Vital for VIP Tires & Service – Best Other Website
Eisai Inc. for Ella the Jellyfish – Best Pharmaceuticals Website
WSI for Doris Gentry – Best Political Website
Prophet for Growth & Transformation Consultants – Best Professional Services Website
PT Bank Rakyat Indonesia (Persero), Tbk. for PT Bank Rakyat Indonesia Corporate Website 2020 – Best Public Relations Website
The Family Cookbook Project for Familycookbookproject.com – Best Publishing Website
NGradio – WebTV for NGradio.gr – Best Radio Website
Proverb for The Kelvin – Best Real Estate Website
90 Degree Design for Stunning Website and Views at Rooftop – Best Restaurant Website
G6 Business Technology Solutions for Borden Institute – Best Retail Website
Finalsite for Greater Atlanta Christian School – Best School Website
Weave Digital Studio for Our Land and Water – Best Science Website
Nebo for Pet P.L.A.Y. Site Re-Design – Best Shopping Website
LEAP  Spark for Kern's Kitchen – Best Small Business Website
Madsack OnlineService for Fightholics – Best Sports Website
Primary Wave Media for RingBoost Custom Phone Numbers – Best Telecommunication Website
Hong Kong Trade Development Council for HKTDC Hong Kong Toys & Games Fair  (Online) – Best Toy & Hobby Website
RPM for RPMmoves.com – Best Transportation Website
4 Roads for Natural World Safaris – Best Travel Website
mStoner, Inc. for University of Pittsburgh at Bradford Website Redesign – Best University Website
Competition format
The competition was judged by a team of independent Internet professionals representing a variety of relevant disciplines of Web site development. Judges included members of the media, advertising executives, site designers, creative directors, corporate marketing executives, content providers and webmasters.
The WebAward competition format allows Web sites to compete head to head with other sites within their industry to win the Best of Industry award.  Entries also compete against a standard of excellence to win Outstanding Website and Standard of Excellence WebAwards.  Each site is judged on seven different criteria and earns a score between 0 and 70 points.  The highest score in a given category wins Best of Industry for that category. If the remaining entries receive a score of 60 or greater, they receive the Outstanding Web site award. Entries that score higher than their industry average and below 59.9 receive the Standard of Excellence.
The 2020 WebAwards are sponsored by the following leading organizations: PR.com, Webmaster Radio and iContact.