Founded in 1997, Imarc is a full-service digital agency with a strong focus on web, mobile, and custom application solutions. Imarc's talented team of 50+ strategists, UX engineers, designers, developers, writers, and business and marketing experts, are skilled in building complex applications from ideation through development. With over 350 diverse clients, Imarc has spearheaded a variety of projects for B2B and B2C clients in a variety of industries including cybersecurity, technology, legal, education, healthcare, accounting, manufacturing, cannabis, and startups. The applications that Imarc has built range from digital asset managers, HR tools, public-facing websites and, as showcased by their latest awards, intranets to help increase employee engagement, efficiency, and productivity.
Imarc's latest award-winning intranet was built for Infor, a leading cloud-software provider delivering enterprise software solutions for companies worldwide, across 20 industries. After redesigning and developing Infor's public-facing website in 2018, Imarc worked with the Infor team to improve the user experience and visual design of their intranet, TeamInfor.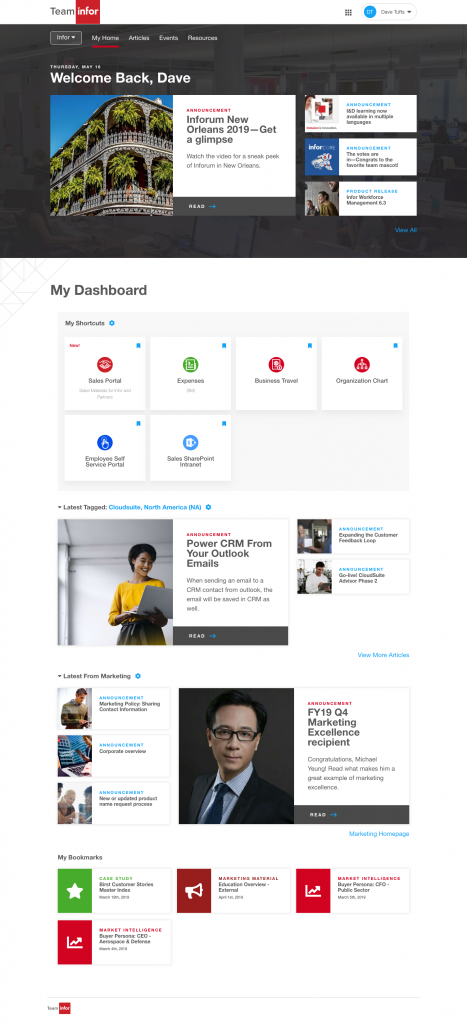 Built as a custom application using Laravel, TeamInfor creates a unique, personalized experience for each user. First-time users are presented with information that helps guide them through TeamInfor, which features a customizable dashboard with bookmarks for external tools; a powerful, elastic search that queries thousands of resources; and the ability to promote featured content, and save resources. Within one week of launch, more than half of Infor's employees had logged in and customized their user experience.
The new intranet serves as a digital hub for the organization. It delivers a consistent tone that is aligned with Infor's refreshed corporate brand and consolidates the intranet and sales portal. This allows for easy access to internal business systems, helping both new and long-time employees find department-specific content and enabling the sales team to search through the thousands of resources they use to help turn prospects into customers. Since it is organized by both department and based on geographic location and role, TeamInfor delivers fresh and relevant information and promotes the awareness of new sales and marketing resources. It also allows users to explore each of the company's departments by browsing the latest news, resources, and contacts for each.
Throughout the discovery and user experience research for the intranet and sales portal, Imarc knew it had to maintain the existing processes and infrastructure that Infor's employees understood and were programmed to use. TeamInfor supports over 14,000 global users across the organization, over 4,000 each day, crossing all departments from marketing, human resources, C-level, and sales. It also supports 3,000 sales channel partners that access TeamInfor for sales and marketing materials. The new intranet provides an engaging experience for sales partners, with curated shortcuts and resources, providing an inclusive feeling, while delivering targeted, relevant information to its partners.
TeamInfor integrates with Infor's current business systems, including MRM for Events, Active Directory to support Single-sign-on (SSO), SAML, and Google Analytics. In addition, the intranet provides access to Infor's offsite resources and tools, such as Business Travel and Employee Self Service (e.g., Mingle), and social media platforms.
TeamInfor is designed to inform, educate, and engage employees while delivering a great employee experience and aligning with Infor's external-facing brand. Improved employee experience, in general, is proven to have a huge impact on company success. The successful launch of TeamInfor helps Infor increase efficiency and productivity across all of its departments. TeamInfor allows departments to share content and news with all of Infor, creating a more unified company, opening the lines of communication among all departments and geographic locations, with an elevated brand experience. Instead of being merely a tool that is required to use, TeamInfor was designed with employees in mind.
This isn't the first time Imarc's work on intranets has received recognition. Their work on JetBlue's intranet, HelloJetBlue, also won The Best Intranet from the 2019 WebAwards, as well as the 2017 Nielsen Design Annual Award. Learn more about Imarc and the work they've done for different clients at imarc.com/work.