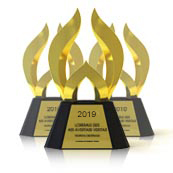 The Web Marketing Association will be naming Best of Show winners and the Top Agency as part of its 2019 WebAward Competition.
A "Best of Industry" WebAward will be given in each of the 96 industry categories, including financial services, medical, small business, travel, advertising, transportation and government.
The competition's highest honor, the 2019 WebAward "Best of Show," will be given to the one site that the judges believe represents the pinnacle of outstanding achievement in Web development.
The Web Marketing Association will also recognize the interactive agency winning the most awards in the competition with the "Top Interactive Agency" WebAward.
Make sure your company will be considered by entering the 23rd annual international WebAwards before the deadline of May 31, 2019.