Here at SEO Inc., prospects and new clients often reach out to us because their website's rankings are suffering from a Google penalty. They usually come to us for two reasons:
1) They have been penalized algorithmically, meaning their site has drawn the unwanted attention of a Google algorithm like Panda or Penguin. These algorithms are designed to decrease website rankings when they find things like low quality content or spammy links.
2) They have been penalized manually by Google. Usually this is the result of their previous SEO company having engaged in blackhat link building tactics.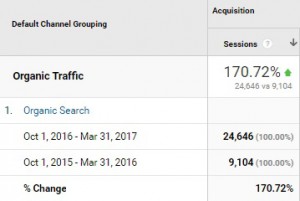 We recently had a new client reach out to us because he suspected his current web development company was doing something illegitimate to his site, which was causing it to lose traffic. He had recently relaunched his website with a modern and responsive design, and he had signed up for SEO with the same company. However, aside from some recent positive traction, organic traffic wasn't nearly what it had been in previous years or even recent months. In fact, it had decreased significantly.

Our client was fairly SEO-savvy, so right away he noticed that some things had not been done with the new site, which raised some major red flags.
Missing redirections. A lot of the old pages had not been redirected to the new pages on the site. This means the SEO value of the old URL's was not being passed to the new URL's.
Missing alt text. Many of the images were missing alt text, which provide essential information that allows blind or handicapped users to browse the site.
Slow website speed. Our client believed his website seemed slower than it should have been.
Needless to say, he wasn't satisfied with the results and depth of knowledge exhibited by his previous company.
Our Goal
SEO Inc. resolved to work with our new client to restore his rankings to a consistent level and increase his organic traffic using legitimate, proven SEO strategies. We would perform an audit of his entire website, essentially leaving no stone unturned as we inspected his site on a page-by-page basis as well as on the whole to root out and remove toxic links. We would also aim to improve his on page optimization, leveraging unique content and keyword distribution to enhance relevancy and authority for his pages.
Link Detox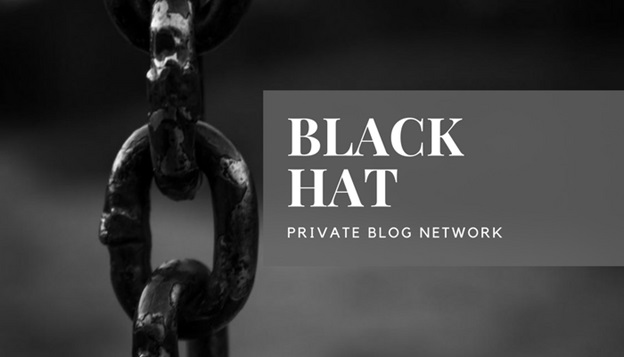 Once we could review the client's website in depth, we made a startling discovery – his previous company had been building links to his website using black hat SEO tactics. They had used a common tactic called a Private Blog Network (PBN). This was a network of WordPress sites this company owned and operated, and its sole purpose was to publish articles that would link back to their clients' websites using exact match, money (high value) anchor text. This PBN was particularly easy to identify, as all the sites under it linked to each other and pointed back to this company's website as well – a clear sign of black hat webspam and of trying to "cheat" the ranking system.
Because we could identify the PBN so easily, we knew it was only a short matter of time before Google would crack down on our client, having issued manual penalties in the past for using PBNs to artificially inflate rankings.
Our Solution
Once our client came onboard, we performed a thorough link detox of his site. This process involved looking at each backlink pointing toward his site and immediately disavowing the PBN sites. In the days and weeks following the Google algorithm Penguin 4.0 (which targets webspam in real-time and rolled out in fall of last year), we saw a noticeable increase in organic traffic to our client's site.
Page Speed and Image Optimization
Another challenge was to correct our client's 404 errors that his previous company had ignored. Optimizing the website's page speed and load times became another large focus of the project. We did indeed find that the website was performing at a less than ideal speed, which when combined with the lack of redirects, would make for a poor user experience and reduce the sites organic visibility.
Our Solution>
We worked to make sure that all our client's old URLs were redirected to their new counterparts. This would allow the pages to carry over the "link juice" value to the new site, preserving the flow of traffic from the old pages to the new.
We took advantage of several newer technologies to take the website's page speed to new levels, specifically HTTP/2 and PHP7. HTTP/2 replaced the older, slower HTTP website protocol, while PHP7 provided a stronger scripting language for web development purposes.
As for his images, we compressed all of the images on his website losslessly using the WordPress plugin WP Smush and used W3 Total Cache to combine and reduce the number of CSS & JS resources used. This would cut back on the amount of scripting needed to load the website. We also added descriptive alt text to his images, optimizing them to be able to be understood by users with disabilities and adhering to ADA standards.
Page Speed States Before Implementation:

Page Speed States After Implementation:

On Page Optimization
Once we had taken care of the mission critical SEO tasks, we could shift our focus to his on page optimization. His previous company had implemented a damaging keyword strategy that goes against Google's guidelines. We found numerous instances of overlapping and duplicated keywords in his meta tags and headers. Since so many pages shared the same focus keywords, a lot of his pages were prevented from ranking for additional key terms.
Our Solution
We discussed with our client how to ensure a strong keyword strategy for each page by positioning the keywords to target a specific service or topic. Then, we incorporated them into unique content with no overlap between pages.
Rich Snippet Optimization

In addition to the on page optimization work, we also added various structured data formats to enhance the site's search result listings and click through rate. We created a testimonials page on his website to list all of his reviews and ratings and then added AggregateRating Review Structured Data to showcase his 5 star rating in the search results. We also added Breadcrumb markup to make the URL listing more digestible and appealing to both search engines and users. In addition to the structured data mentioned above, we added the following additional formats:
These additional formats allowed his site to gain added value from Google's search results listings, as they are now eligible to be featured in prominent sections on the page.
White Hat Link Building Campaign
Last but not least, we took a purely white hat approach to building links to our client's site. Unlike the previous company's tactics of forging backlinks using an illegitimate PBN, we wanted to provide real value to his website and his visitors by building links that were related to his industry. We were able to leverage services such as HARO (Help a Reporter Out), which connects journalists with experts to answer their questions using thorough research and know-how to create the foundation for a strong link profile for our client.
Conclusion
We are pleased to report that after our on page optimization efforts, page speed improvements, rich snippet additions, and the implementation of our keyword and content and strategy, our client's website performance increased drastically:
Organic traffic increased by 170%
Page load time reduced from 4.8 seconds to 1.2 seconds
Page sizes reduced from 2.68 MB to 676 KB
We are thrilled to have helped pull our client out of his SEO troubles, securing his site and making it more appealing to human users and search engines.