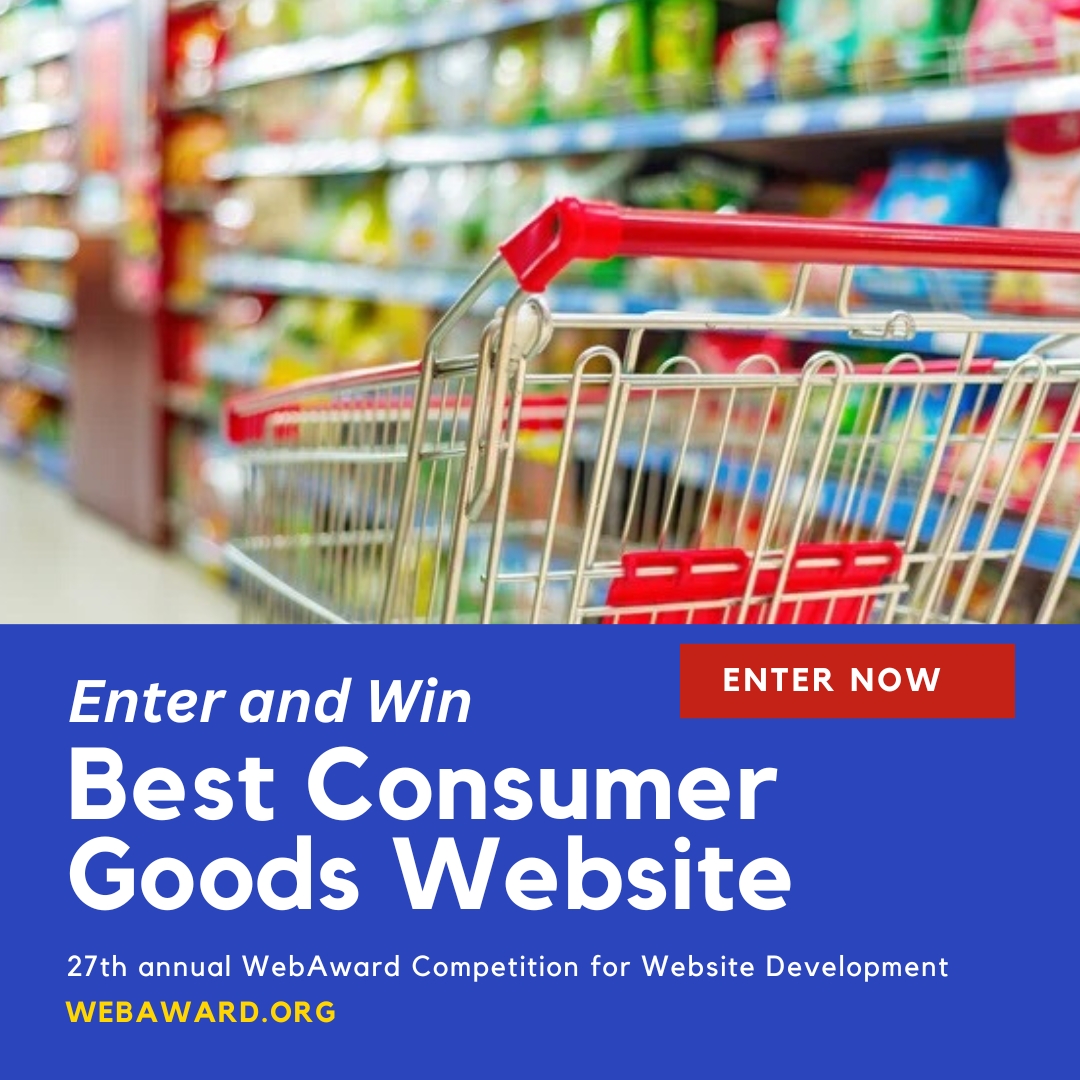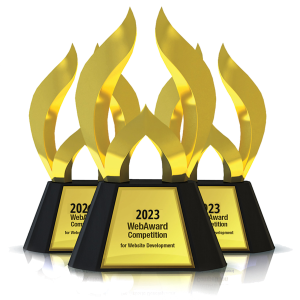 The Web Marketing Association is looking for the Best   Consumer Goods Websites in the world as part of their 27th annual international WebAward Competition for Web site development at www.webaward.org. The WebAwards is the standards-defining competition that sets benchmarks for 86 industries, including Consumer Goods websites, based on the seven criteria of a successful web site. The deadline for Consumer Goods websites to enter to be judged is May 31, 2023.
"In the consumer goods industry, a website can be a powerful tool for promoting your products, services, and brand, and engaging with your consumers" said William Rice, President of the Web Marketing Association. "Consumer good is a final product ready for sale that is used by the consumer to satisfy current wants or needs. The WebAward Competition provides a platform for digital agencies and organizations that create these consumer goods websites to showcase their creativity, innovation and effectiveness in delivering exceptional value and quality to their customers."
Web sites are judged on seven criteria including design, innovation, content, technology, interactivity, copy writing and ease of use. Each WebAward entry in the Consumer Goods category is judged against other Consumer Goods entries and then against an overall standard of excellence.
All Consumer Goods entrants benefit from receiving valuable feedback in terms of their specific scores compared against the average scores for their industry. They also may receive specific comments from the WebAward's professional judging panel on their Web site development efforts.
Winners of a WebAward in the Consumer Goods category will also receive:
        Handsome statue or certificate of achievement
        A limited-edition Commemorative NFT
        Increased visibility for their company
        Marketing opportunity to promote the company website to the media
        Links to your site from the highly ranked WebAward site to help SEO
        A highlight for your resume.
        Admiration of peers, friends and co-workers
        Unlimited bragging rights
Winners of the 2023 WebAward Competition Consumer Goods Website will receive a commemorative NFT to recognize their success. The Web Marketing Association WebAward Competition is the first award program to provide its winners a limited-edition Ethereum-based Non-Fungible Token (NFT) to commemorate their award-winning website achievement.
Each year the Web Marketing Association names the Best Consumer Goods Website based on the scores submitted by the competition judges.
Past winners of the Best Consumer Goods Web site include:
2022 – Red Door Interactive for Bosch Virtual Kitchen Experience Microsite
2021 – Vital for Caliper
2020 – FirmStudio & Emphasis Jewellery for Emphasis Jewellery Brand Website & Membership Portal
2019 – Isobar US for Isobar Transforms 400-Year Old Kitchenware Brand, Zwilling
2018 – TMV Group for AustralianDream.com
2017 – Publicis Hawkeye for Barnett Crossbows
2016 – Springbox for Tradewinds Website
2015 – Ascedia, Inc. & Sub-Zero and Wolf for Sub-Zero and Wolf Website Redesign
2014 – Redbubble for Website
2013 – Wakefly for Husqvarna Viking Website Development
2012 – Web Advanced for Baldwin Hardware Website
2011 – Organic, Inc. for U by Kotex: Ban the Bland
2010 – Enlighten for John Frieda – Product Advisor
2009 – G2 Interactive for M&M'S® and TRANSFORMERS
2008 – Enlighten for Ban
2007 – bbdigital (Blattner Brunner) for Aquafresh White Trays Product Launch
2006 – Merillat Industries, LLC for Merillat
2005 – RMG Connect for Nestle Kids Ice Cream
2004 – Bent Media for TABASCO® PepperFest®
2003 – DraftDigital for Wisk
Consumer Goods Websites can be entered into consideration for the 2023 Best Consumer Goods Website WebAward at the WebAward Website.
The 2023 WebAwards are sponsored by the following leading organizations: PR.com, iContact, and eTailConferences. The Web Marketing Association thanks these companies for their commitment to the entire online marketing community.
Please Join the Web Marketing Association on Social Media: LinkedIn Page, LinkedIn Group & Twitter. Like and follow for news and award updates!