Posted by Bill Rice - 02/12/08 at 11:02:00 am
eM8-West provides the forum for the very latest trends, best practices, processes and ideas that are transforming the future of marketing. This conference will give you practical ideas and tools for significantly improving your marketing programs. 15 focused sessions contain so much new content and cutting edge actionable ideas and processes you should bring your entire team. This conference covers it all, email, mobile, search, website, online and social marketing, it will provide you with the knowledge to move your programs forward in a synergistic process.
eM8 – West
April 15-16, 2008
San Francisco Hilton
Posted by Bill Rice - 02/12/08 at 09:02:00 am
According to January, 2008 O'Dwyers PR Report, WPP Group,one of the world's largest communications services groups, said that ad agencies that win the most awards are the most profitable. Agencies now publicize themselves by promoting their awards instead of advertising in Ad Age and adweek said marketing guru Al Ries.
Posted by Bill Rice - 02/12/08 at 08:02:00 am
An article in the New York Times by Randall Rothenberg entitled Ad Agencies' Obsession With Winning Awards holds true today as well as when the article was published.
The article reported that few in advertising question the importance of these honors to agency creative people and that although major advertisers routinely deny concern with awards, agency executives overwhelmingly affirm their importance in luring new business.
The Web Marketing Association is proud of it two award program's the WebAwards and the Internet Advertising Competition Awards
Posted by Bill Rice - 02/11/08 at 08:02:00 am
Just a final quick reminder that this Friday, February 15, 2008 is the last day you can enter the Web Marketing Association's 2008 Internet Advertising Competition awards. The judging starts Monday so don't be left out in the cold and get your entries in before Friday.
If you are already entered, Friday is the last day you can edit your entry.
Posted by Bill Rice - 02/11/08 at 03:02:00 am
MIX08 – The Next Web Now, March 5 – 7, 2008, The Venetian Resort Hotel, Las Vegas
Now in its third year, MIX is an intimate opportunity for cutting-edge technical, creative and business strategists to engage Microsoft in a conversation about the future of the web. Come explore the latest wave of opportunities and help redefine the boundaries between: content and commerce, PC and TV, Windows and the Web.
Keynote presentations delivered by Steve Ballmer, Scott Guthrie, Guy Kawasaki and other distinguished speakers unveiling the latest web-oriented products and technologies. Benefit from a comprehensive program of sessions for designers, developers and business strategists led by industry experts and hands-on labs and workshops for developers and designers.
Posted by Bill Rice - 02/06/08 at 09:02:00 am
Here are the articles that appeared in the February issue of the Web Marketing Association's Interactive Briefing Newsletter.
Beware the Trend Bandwagon – Which trends were all hype and which ones got it right? More importantly, what looks to be hot in 2008? Read what imc² has to say about strategically incorporating the appropriate trends into your marketing plan.
Consumers Shout "I Want My Online Video"– Video content, once reserved to restricted distribution and corporate scheduling, is now readily available on demand at your favorite Internet web site. The torrent of available video content online has been met with near insatiable consumer demand and intense advertiser interest. Burst recently surveyed more than 2,600 online respondents to get a better idea of how they consume online video, and their perception of advertising placements within it. (PDF).
Posted by Bill Rice - 02/05/08 at 02:02:00 am

Internet World is the leading event for decision-makers responsible for their organisation's digital
marketing and Internet presence taking place in Earls Court, London from the 29
Apr -1 May 2008. It is the UK's largest B2B
Internet event. Recently winning two highly acclaimed awards from Event
Magazine – Best Business Exhibition and
Most Improved Established Exhibition. The 2008 Keynote Programme features BBC,
Microsoft, Intel, Habbo Hotel, Sony, Thomas Cook, Blinkx, IAB, T-Mobile,
McKinsey and Company amongst many others. You will hear from over 300 speakers giving you the chance to
master or introduce yourself to Digital Marketing and the Business Internet technologies
ranging from IPTV, Mobile Internet, Web 2.0/3.0, Search/Behavioural Targeting, Online
Advertising, Hosting/Connectivity, Content Management, Email Marketing, Ecommerce,
Analytics/Measurement and much more.
Internet World 2008
Business for the Digital Age
29 Apr-1 May 2008,
Earls Court, London
Register for FREE entry at www.internetworld.co.uk

Posted by Bill Rice - 02/04/08 at 09:02:00 am
Search Engine Strategies conference and Expo London, February 19-21, 2008 – Business Design Centre, London UK
Last year's event in London was another smashing success! Once again all U.K. attendance records were broken as industry professionals packed the session rooms and hung onto every word looking for ways to improve their business.
Posted by Bill Rice - 02/04/08 at 02:02:00 am
From mobile to digital, retail to e-tail, MarketingTech: Tailormade is a chance for marketers to pick and choose across 16 training clinics, so that the one-day event will provide a personalised hands-on, experiential 'one-stop shop', to gain updates on the latest developments and how to practically use these technologies to enhance customer engagement.
New technology: what's out there?
What is a flash in the pan and what will shape the future?
How can it be practically applied to your business and how can you prove return?
Hear from 16 brand speakers including Yell.com, Cadbury-Schweppes, Times Online, Disney and more… Learn more about: Mobile Marketing | Web 2.0, Blogs, Social Networking| Search | Digital's Latest Developments | Irresistible Email Campaigns| Consumer Behaviour| Winning Websites| Innovative In-Store
MarketingTech: Tailormade
The Grange City Hotel, London
31 March 2008
www.marketingtech.co.uk
*BOOK BEFORE 7 February & Save £50*
Posted by Bill Rice - 02/01/08 at 03:02:00 am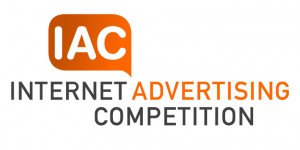 The Internet Advertising Competition (IAC) Awards call for entry deadline has been extended until February 15th. This will be the only deadline extension as the judging will begin on Feb. 18th.
The IAC awards honor individuals and organizations across the globe for their contribution to online advertising excellence. Entries will be judged on creativity, innovation, impact, design, copywriting, and use of the medium.
If you've waited until the last minute to enter – that last minute is here! Enter the IAC Awards today!
Powered by WordPress with GimpStyle Theme design by Horacio Bella.
Entries and comments feeds. Valid XHTML and CSS.