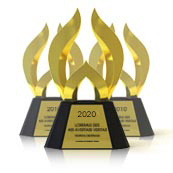 The Web Marketing Association is looking for the Best Events Websites in the world as part of their 24th annual international WebAward Competition for Web site development at www.webaward.org. The WebAwards is the standards-defining competition that sets benchmarks for 96 industries, including Events websites, based on the seven criteria of a successful web site. The deadline for Event websites to enter to be judged is May 29, 2020.
Web sites are judged on seven criteria including design, innovation, content, technology, interactivity, copy writing and ease of use. Each WebAward entry is judged against other entries in its industry category and then against an overall standard of excellence.
All entrants benefit from receiving valuable feedback in terms of their specific scores compared against the average scores for their industry. They also may receive specific comments from the WebAward's professional judging panel on their Web site development efforts.
Winners of a WebAward in the Events category will also receive:
Handsome statue or certificate of achievement
Increased visibility for their company
Marketing opportunity to promote the company website to the media
Links to your site from the highly ranked WebAward site to help SEO
A highlight for your resume.
Admiration of peers, friends and co-workers
Each year the Web Marketing Association names the Best Events Website based on the scores submitted by the competition judges.
Here are the past Best Event Website WebAward winners:
2019 – Primacy for Emmanuel College Centennial Celebration
2018 – TMV Group for NAIAS.com
2017 – Alexander & Tom, Inc for Pegasus World Cup Invitational
2016 – TMV Group for North American International Auto Show
2015 – David Kerr Design Inc. for Key Events
2014 – Matrix Group International, Inc. for Matrix Group 15th Anniversary Microsite
2013 – Small Army for Be Bold, Be Bald!
2012 – Rosetta for Common Thirst – Steps for Water
2011 – RTP Interactive for Teva Mountain Games
2010 – JUXT Interactive for Cisco Global Sales Experience
2009 – usdm.net(R) for POW WOW MIAMI
2008 – Hitchcock Fleming & Associates Inc. for Lock 3 Live
2007 – RED Interactive Agency for UFC 66: Liddell vs. Ortiz
2006 – Ericsson Canada Inc. for Rogers FIFA World Cup 06
2005 – Fingerprint Interactive for The Microsoft PDC Website
2004 – Arnold Worldwide for Pods Unite
2003 – Travers Collins & Company for Buffalo Niagara's One Summer long Sensation
Events and "green"-related websites can be entered into consideration for the 2020 Best Events Website WebAward at the WebAward Website.