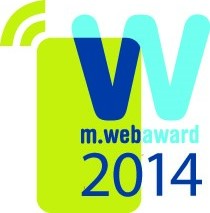 The Web Marketing Association is pleased to announce the winners its third annual international MobileWebAward competition. This award program recognizes the individual and team achievements of Web professionals all over the world who create and maintain the best mobile Websites and the best mobile applications. The complete list of winners can be found at www.mobile-webaward.org.
"Since 1997, the WebAwards have helped define the standards for website development, now the MobileWebAwards will do the same for sites and apps designed for mobile devices," said William Rice, president of the Web Marketing Association. "Smartphones and tablet computers are exploding and companies are racing to be allow users to connect and interact with them using mobile devices.  The goal of the MobileWebAwards is to both recognize the people and organizations responsible for developing some of the most effective mobile Web sites and mobile apps on the Internet."
The MobileWebAwards were judged on seven criteria seen as requirements for a success mobile website or mobile app. They include Creativity, Impact, Design, Content, Interactivity, Ease of use and Use of the medium. Each mobile website or mobile app entry is judged against other entries of the same format in its industry category and then against an overall standard of excellence.
This year's top awards include:
Noble Studios won Best of Show Mobile Website for Queens University of Charlotte, which also was recognized as Best University Mobile Website. Queens turned to Noble Studios to capture the feeling of being at the University virtually. Noble designed and developed an interactive campus tour with customizable components so prospective students could envision their college experience. They can select their area(s) of study and interest. Students are then given an interactive grid of results based on their answers.
Spark won Best of Show Mobile Application for Martin Guitar Tuner, which also was awarded Best Music Mobile Application. In addition to the guitar tuner, there is a design-your-own custom guitar component of the app, where the user can pick different body styles, wood and decorations and then share the image on social media.
Klick Health was named Top Interactive Agency for the 2014 MobileWebAwards competition. They received 9 awards, including: Best Publishing Mobile Website, Best Game Site Mobile Application, Best Pharmaceuticals Mobile Application, Best Biotechnology Mobile Website, Best Technology Mobile Website, Best Employment Mobile Website, Best Intranet Mobile Website, Best Marketing Mobile Website and Best Blog Mobile Website
Two firms were named an Outstanding Mobile Interactive Developer this year. They are RED Interactive Agency (6 awards) and Risdall Public Relations (5 awards).
A complete list of winners can be found on the award program's Website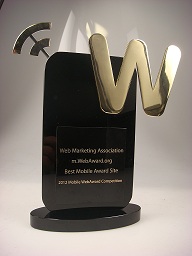 The Best of Industry statue is reminiscent of a personal digital device, it could be yesterday's smart phone, today's tablet, or tomorrow's device.  It is crafted of fine jet black crystal with the iconic "W" accent in 24kt plated gold and personalized with your award information.  The award is entirely hand crafted by, Society Awards, the makers and designers of other notable award programs such as the Golden Globes, Emmys, MTV VMAs, and CLIOs to name a few, and presented in its own custom gift box.
The 2014 MobileWebAwards are sponsored by the following leading organizations: Small Army Creative Services, Burst Media, EContent Magazine, VerticalResponse, ad:tech conferences, Clickz Live, Webmaster Radio, and Website Magazine. The Web Marketing Association thanks these companies for their commitment to the entire online marketing community.
About the WebAwards
The Web Marketing Association's third annual MobileWebAwards are based upon the success of its long running international WebAward Competition for Website Development and the Internet Advertising Competition. All Web Marketing Association award programs recognize the people and organizations responsible for developing the most effective online marketing programs on the Internet today. Entrants benefit from assessment of their marketing efforts by a professional judging panel and the marketing opportunities presented by being recognized as an award-winning entry.