Posted by Bill Rice - 01/18/13 at 01:01:00 pm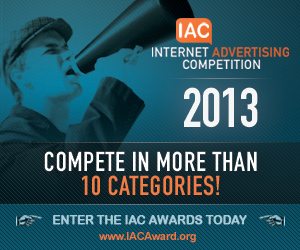 There are only two more weeks to enter the Web Marketing's 11th annual Internet Advertising Competition Awards. The IAC Awards are the oldest industry-based advertising award competition dedicated exclusively to online advertising. The Competition Web site is located at www.iacaward.org and the deadline for entry is January 31, 2013.
Awards will be presented within 86 industry categories and advertising formats including:
Banner ads, Online newsletters, Email Campaigns, Websites, Social Media, Online Video, Mobile Apps and Integrated ad campaigns.
Don't wait until the last minute! Enter today!
No Comments yet
RSS feed for comments on this post. TrackBack URI
Sorry, the comment form is closed at this time.
Powered by WordPress with GimpStyle Theme design by Horacio Bella.
Entries and comments feeds. Valid XHTML and CSS.