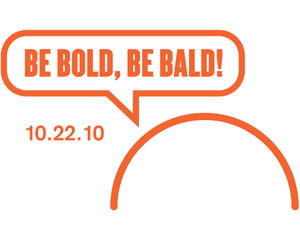 On October 22, 2010, please join us and wear a bald cap all day to show solidarity with cancer patients, raise awareness to effects of this devastating illness and raise money for charity. For a small fee ($15) you will receive your own bald cap, a tee-shirt and information on how you can help make a difference.
The Web Marketing Association has created a team for the online marketing community to help this wonderful cause. Click here to learn more and join the "I Can Make A Difference" team and receive your own Be Bold Be Bald kit.
Bold, Be Bald! was created by Small Army for a Cause, a 501c3 organization founded by members of Small Army (an advertising, marketing and creative services agency) in Boston, Massachusetts. The organization was launched in honor of Mike Connell, co-founder and former Creative Principal of Small Army, who lost his battle with cancer in 2007. Mike was an active member of the WMA and he is missed by all who knew him.