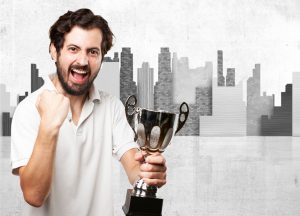 We all love recognition. It's human nature to crave affirmation on a job well done. Being recognized for the work we do makes us work harder to maintain a high level of excellence and hopefully be recognized once again. That is one reason why many brand marketers enter their work into advertising and Web site award programs.
Marketers are not alone entering award programs, our entire society places a great credibility on award winners and award programs are persuasive in every medium. An Oscar or Tony can have significant impact at the box office. A national book award and the sales of a novel can explode.  MTV movie awards, Motor Trend Car of the Year, Grammy, and Malcolm Balridge are some popular awards we all recognize.
The Marketing and advertising community also loves awards. Clio, Cannes Lions, Addys, WebAwards, IAC Awards, One Show and DMA Echo awards all recognize outstanding advertising in each of its many forms.
Agencies and marketing departments enter awards for many reasons:
Stand Out From The Competition – Awards are a great way of helping your company stand out from the crowd. Independently assessed, they provide a genuine comparison between your company and its peers.
Client Respect – Clients respect the independent confirmation of the work being done for the company compared to industry averages and proving the outstanding level of work be winning awards can strengthen the relationship between agency and client.
Budget Time – Letting senior management know their money is well spent will help come budget time. Providing the bean counters with quantifiable evidence can help support requests for expanding marketing budgets doesn't hurt either.
Individual Recognition – Face it, we're not in the industry just for the money.  At all levels we need affirmation of our value to the team.  Awards provide us an opportunity to recognize team players at all levels.
Marketing Opportunity – Winning awards can be the start of a great marketing program. Press releases, newsletter articles, print ads and special events can be effectively used to increase brand recognition and drive traffic to your Web site.
Feedback – Receiving valuable feedback about an entry can worth the entry fee alone.  Many top award programs provide comments from the judges to help future development.
Staff Morale – In this current environment with team members separated or working remotely, winning an award can bring everyone together and be a great shot in the arm to boost the team's morale.
Excellence deserves recognition and the marketing community offers many well-established award programs that marketing professionals can use to satisfy your healthy competitive ego and allow you brag a little bit. However, you can't win if you don't enter.
William Rice is President of the Web Marketing Association. Founded in 1997, recognizes the people and organizations responsible for developing the most effective online marketing programs on the Internet today.
The 24th annual international WebAward competition recognizes the individual and team achievements of Web professionals in 96 industries all over the world who create and maintain outstanding Web sites.  The deadline for entry for the 2020 WebAwards is May 29, 2020.  A complete list of past winners and this year's entry form can be found at www.webaward.org.