Posted by Bill Rice - 01/13/20 at 11:01:52 am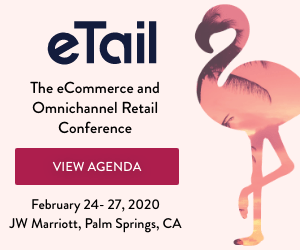 eTail (February 24 – 27, 2020. JW Marriott, Palm Springs, CA) is a four day retreat designed to help you increase the profits from your business.
You'll get action-packed strategies and make connections with the top minds at America's most successful retailers. No commercials. No egos. We cut out the fluff so you can return to the office with detailed take-aways. Download the agenda for more info: https://bit.ly/2Fj8UDO
Retailers – get 20% off your eTail ticket when you use code: EPS20WMA at checkout! Register here: https://bit.ly/2ZSnADl
Powered by WordPress with GimpStyle Theme design by Horacio Bella.
Entries and comments feeds. Valid XHTML and CSS.