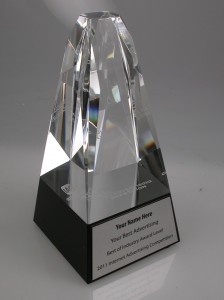 The Web Marketing Association announces the winners of its annual Internet Advertising Competition (IAC) Awards, an effort to honor excellence in online advertising and to recognize the individuals and organizations responsible for the best in Internet marketing. The IAC Awards are the first and only industry-based advertising award competition dedicated exclusively to online advertising. The Competition web site with a complete list of winners is located at www.IACAward.org
"As more and more marketing dollars are poured into online advertising, the creativity and excellence in online advertising continues to rise," said William Rice, president of the Web Marketing Association, Inc.  "The Web Marketing Association is pleased to help set the standard for Internet excellence with the IAC Awards by highlight the best in online advertising by medium and industry."
Best of Show Winners
These Best of Show winners represent the pinnacle of achievement across all industries.  The Web Marketing Association is pleased to help set the standard for Internet excellence with the IAC Awards by highlight the best in online advertising by medium and industry.
Here are this year's Best of Show winners:
Disney Creative Group for Disney x Coach won  Best of Show Online Ad
TMV Group for FaygoUnbottled.com won Best of Show Website
USA Network for Mr. Robot Email Campaign  won Best of Show Email Campaign
Think Jam for Trolls International Media Campaign won Best of Show Rich media Online Campaign
The Regional Municipality of York  for #YRMatters  won Best of Show Online Newsletter
TVGla for PetMOJI  won Best of Show Mobile application
true[X] & OMG@WB for Warner Bros. Suicide Squad won Best of Show Rich Media Ad
Razz Interactive for Pitbull Messin Around Album Launch won Best of Show Interactive Application
Sanky Communications for Covenant House  2,000 Heroes for Homeless Kids won  Best of Show Email Message
These Days for Coins of Hope won Best of Show Integrated Ad Campaign
These Days for Put a Price on your Precious won Best of Show Social Media Campaign
These Days for Sound of Tomorrow won Best of Show Online Campaign
Pretty Damn Sweet for Back to Work  won Best of Show Online Video
Top Agency Winners
The Web Marketing Association recognizes the agency that demonstrates consistent excellence in online advertising development by winning more IAC Awards than any of their peers in a single competition. Each entrant was awarded points based on the level of award for each award received. The agency with the most points is awarded the Top Agency Award.
These Days is recognized with the 2017 Top Agency Award, winning 10 IAC Award winning entries, including three Best of Show awards and a total of 66 quality points towards the Top Agency Award. Founded in 2001, These Days is an integrated, multidisciplinary communication agency with 150+ employees delivering services (strategy, creation, production, media, analytics) to customers worldwide.
Seven additional organizations were recognized as Outstanding Advertising Developers in the 2017 IAC Awards for winning 6 or more awards. They are:
AGENCY (number of awards)
Scorpion

USA Network

TMP Worldwide

INNOCEAN USA

Giants & Gentlemen

Sanky Communications

TMV Group

12

12

9

9

6

6

6
The IAC Awards web site with a complete list of winners is located at www.IACAward.org
The Web Marketing Association is now accepting entries for the 21th annual WebAward Competition for Web site development.  Deadline for entry is May 31, 2017.