THE WEB MARKETING ASSOCIATION PRESENTS THIS WEBAWARD
Outstanding Website
2021
Submitted by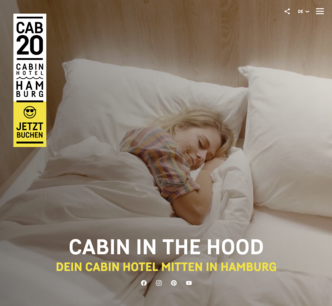 About XPORT.de
Digital hotel marketing agency with a special love for boutique hotels and hotel chains.
About CAB 20 GmbH
"Das CAB20 will inspirieren. Wir wollen Gäste, Mitarbeiter sowie Einheimische zum Umdenken anregen und sie für neue Ideen und Perspektiven begeistern", erklärt Lasse Lütjens, Geschäftsführer des CAB20. So sieht das Hotelkonzept eine Reduktion auf das Wesentliche vor und folgt damit laut der Firma einem branchenübergreifenden Trend, der nachhaltige Aspekte und umweltbewusstes Wirtschaften in den Fokus rücke. "Nicht nur in Asien, sondern mittlerweile auch in Europa, werden im Tourismus verstärkt Akzente im Bereich des Microliving gesetzt. Wir haben uns an der flächeneffizienten Architektur japanischer Hotels orientiert und sie an die Bedürfnisse europäischer Gäste angepasst", so Dr. Mathias Krahl, Founder und Geschäftsführer der Muttergesellschaft Fährhaus Investment Group. Das CAB20 hebe sich damit deutlich vom Konzept bisher bekannter Hotels und Hostels ab.
About the Web Marketing Association's WebAwards
Since 1997, the Web Marketing Association's annual WebAward Competition has been setting the standard of excellence for Website development. Independent expert judges from around the world review sites in 86 industries. Only the best are recognized with a WebAward. The WebAward Competition is the premier award recognition program for Website developers and the online marketing community.