THE WEB MARKETING ASSOCIATION PRESENTS THIS WEBAWARD
Best Manufacturing Website
2012
Submitted by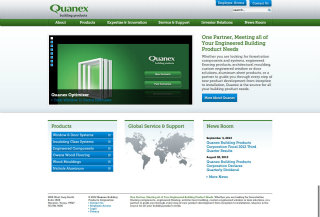 About Savage
Savage is a branding agency that helps companies develop and sustain leadership positions within their industries. Our expertise encompasses branding, marketing, online and social media, sustainability reporting, investor and employee communications, and more.
About Quanex Building Products Corporation
Quanex Building Products Corporation is an industry-leading manufacturer of
value-added, engineered products and components, serving the energy-efficient
building products markets. It is an ROIC-driven company that grows shareholder
returns through a combination of organic growth via new products, programs and
strategic acquisitions.
About the Web Marketing Associationís WebAwards
Since 1997, the Web Marketing Association's annual WebAward Competition has been setting the standard of excellence for Website development. Independent expert judges from around the world review sites in 86 industries. Only the best are recognized with a WebAward. The WebAward Competition is the premier award recognition program for Website developers and the online marketing community.