THE WEB MARKETING ASSOCIATION PRESENTS THIS WEBAWARD
Best Arts Website
2010
Submitted by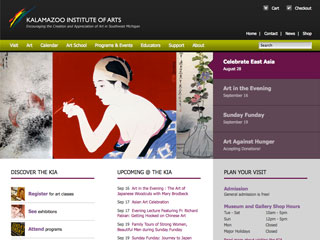 About LKF Marketing
LKF Marketing is a full-service advertising, marketing, website design, and development and public relations agency located in Kalamazoo, Michigan with a 20+ year history. We're different from other communication firms. Why? We're not out to win award after award for producing outstanding works of art. Our sole purpose is to achieve results. Awards are great, but they don't make someone use your product or services...though we still manage to nab honors along the way.

Our clients are more than just clients; you are a member of our team. We take the time to really listen to your needs so we can understand your business objectives and present you with a suitable solution. There are no cookie cutter marketing plans here. We develop and implement customized tactics to address your individual communication problems and get you the right results, every time.

We don't like to brag (well maybe we do a little) but we have the best group of professionals in the biz. Using a team-approach, our staff consists seasoned account managers, gifted creatives, and technology development experts work as one cohesive unit to tackle all of your marketing challenges.

Our passion is obvious. We're seriously nuts about what we do, and it shows up in every finished product. We love to use our skills to find new ways to solve problems and make things work. We can't believe we get paid to do this for a living! We put our all into what we do, but at the end of the day, we're always ready to let go and have some fun. This passion continues into our community, where our employees are very active with various affiliations.

That's what we do: Work hard. Play hard. Stick with us, you'll be glad you did.
About the Web Marketing Associationís WebAwards
Since 1997, the Web Marketing Association's annual WebAward Competition has been setting the standard of excellence for Website development. Independent expert judges from around the world review sites in 86 industries. Only the best are recognized with a WebAward. The WebAward Competition is the premier award recognition program for Website developers and the online marketing community.