THE WEB MARKETING ASSOCIATION PRESENTS THIS WEBAWARD
Best Social Network Website
2010
Submitted by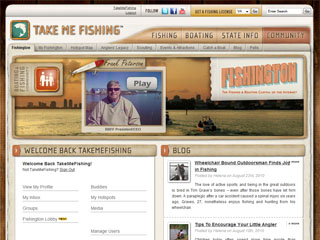 About Recreational Boating & Fishing Foundation
The Recreational Boating & Fishing Foundation (RBFF) is a 501(c)(3) non-profit organization whose mission is to increase participation in recreational angling and boating and thereby increase public awareness and appreciation of the need for protecting, conserving and restoring this nation's aquatic resources. Through the Take Me Fishing campaign, RBFF utilizes a comprehensive approach to reach boaters and anglers of all ages and experience levels in order to fulfill our mission. The campaign not only creates awareness, but also encourages anglers and boaters to take a step toward participation in a measurable way, like never before.
About the Web Marketing Associationís WebAwards
Since 1997, the Web Marketing Association's annual WebAward Competition has been setting the standard of excellence for Website development. Independent expert judges from around the world review sites in 86 industries. Only the best are recognized with a WebAward. The WebAward Competition is the premier award recognition program for Website developers and the online marketing community.