What makes the WebAward Competition special?
The Web Marketing Association was founded in 1997 to help set a high standard for Internet marketing and development of the best websites on the World Wide Web. Staffed by volunteers, this organization is made up of Internet marketing, online advertising, PR, and top web site design professionals who share an interest in improving the quality of online advertising, internet marketing, and website promotion.
The Web Marketing Association is the producer of the WebAward Competition. Now in its 17th year, the WebAward program is the longest running annual website award competition dedicated to naming the best Web sites in 96 industries while setting the standard of excellence for all website development.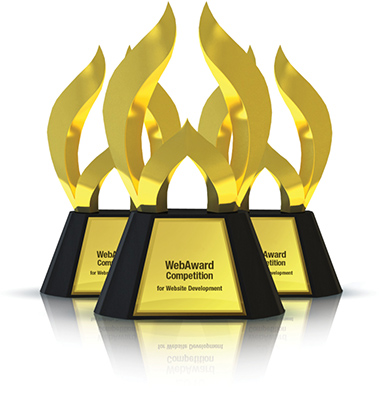 Few Website award programs recognize the individual achievement behind the creation of today's top web sites the way we do at the Web Marketing Association. We believe it is important to recognize the people and organizations responsible for developing some of the most effective and best web sites on the Internet today. It's a great morale builder. Winning a website award is also an internet marketing opportunity for the award winning web site. But more than just an award program that Internet marketing experts use
Whether you enter this website award to help impress your clients, impress your boss, justify your interactive budget, create an Internet marketing opportunity, or receive valuable feedback regarding the status of your own website development efforts, you will be impressed with how easy it is to enter. When you enter the WebAwards, you also will experience how exciting it can be to win the recognition you deserve!
Enter your best websites to see if they will win a 2023 WebAward for you and your organization!