Posted by Bill Rice - 05/18/10 at 03:05:00 am
If you are like most Internet professionals, you have already entered the 2010 WebAward competition for website development. If you have not done so yet, what are you waiting for? There is only one week – 7 days – less than 168 hours – to earn the recognition that will get you noticed. You've waited long enough, it's time to enter.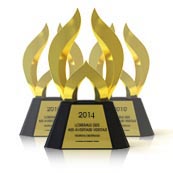 width="200″ height="211″ align="right">
You don't want your CEO coming to you in September and asking why your competitor won one of those cool new WebAward trophies and have to tell him or her that you missed the deadline! With 96 industries participating, of course there is a category for you.
The 14th Annual WebAward competition deadline for entry is May 25th, right before the Memorial Day Holiday in the USA. Entering is easy. Simply create a nominator account or log into an existing account from past years. This password protected area will allow you to enter multiple sites, edit the information and receive updates, results and feedback on your entries throughout the competition. Avoid a late fee by completing your Web sites entries before the deadline.
If you have already submitted your site, please make sure the entry is complete, the URL is active and any entries fees due have been paid before the deadline so the entry can be submitted to the judges.
Want to know how to increase your chances of winning a WebAward? Become a Fan of the WebAward Page on Facebook. Each day a new tip is posted to give you better insight into how to best position your entry to give it the maximum impact with the judges.
No Comments yet
RSS feed for comments on this post. TrackBack URI
Sorry, the comment form is closed at this time.
Powered by WordPress with GimpStyle Theme design by Horacio Bella.
Entries and comments feeds. Valid XHTML and CSS.