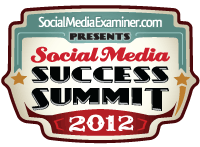 Social Media Success Summit 2012 is a special online conference designed to help you master social media marketing (brought to you by Social Media Examiner). Twenty-seven of the world's leading social media pros will show you how. Instructors include Jeremiah Owyang (Altimeter Group), Chris Brogan (author, Google+ for Business), Mari Smith (co-author, Facebook Marketing), Brian Solis (author, Engage), Jay Baer (co-author, The Now Revolution), Jason Falls (author, No Bullshit Social Media), Frank Eliason (author, @YourService), Michael Stelzner (founder, Social Media Examiner), Mark Schaefer (author, The Tao of Twitter), Dave Kerpen (author, Likeable Social Media), Jesse Stay (author, Google+ for Dummies), C.C. Chapman (co-author, Content Rules), Kipp Bodnar (co-author, The B2B Social Media Book), Amy Porterfield (co-author, Facebook Marketing All-in-One for Dummies) and experts from LinkedIn, Dell, Ford, Citigroup and Citrix–just to mention a few. Fully online.
Click here to get complete information and to sign up
WHO: This event is ideal for any marketer or business owner focused on business-to-business OR business-to-consumer. You'll recognize some of the organizations that attended Social Media Success Summit 2011: General Mills, Microsoft, Honda, IEEE, Junior Achievement, SAP, Tyco, 3M, LexisNexis, Mayo Clinic, Coca-Cola, Wells Fargo, Disney, Bruegger's, Visa, Intuit, Warner Music Group, Party City, Constant Contact, Yahoo!, Cisco, Kraft Foods, Princeton Theological Seminary, Autodesk, ConAgra Foods, London Convention Centre, Stonyfield Farm, Rust-Oleum, Teradata, Four Seasons Hotels, Carnegie Mellon University, Cardinal Health, Comcast, Dole Food Company, Lexus, Monster Cable, Dow Chemical, Allstate, Siemens, Verizon Wireless, U.S. Army, Circus Circus Hotel & Casino, Henkel, Ritz-Carlton, SanDisk, Ashley Furniture, DuPont, Thomson Reuters, HP, Creative Memories, EMC, Yale University, Hostess Brands, T-Mobile, Fuddruckers, Albertsons, John Wiley & Sons and thousands of small businesses.
WHAT: This fully online summit will help you master social media marketing with how-to sessions from actual social media experts and book authors. Presentation topics include: developing a social media strategy, finding and engaging your target audience, measuring success, converting activities to sales, social customer service, Google+ marketing, business blogging, Facebook marketing, LinkedIn marketing, YouTube marketing, Twitter marketing, Pinterest marketing and much more! A certificate of achievement will be presented to attendees who successfully complete a post-summit exam.
WHERE: At your home or office! You attend this live event using your computer (no long-distance bill or travel expenses!).
WHEN: Starting May 1, 2012 (spread over four weeks to improve learning and accommodate your schedule; scroll down for the full schedule). Plus you'll get recordings and transcripts of all live sessions.
WHY: You'll be able to quickly implement effective social media marketing techniques, attract great customers and prospects and gain a unique competitive advantage. You'll also discover how to best measure the effectiveness of your social media activities, how to sell with social media and the newest social media tactics. This event will help your business maximize the full potential of social media.
HOW: Registration is limited. NOTE: Our Social Media Success Summit 2011 sold out. Click here to save 50% (lock in your early-bird savings before they're gone!) and secure your spot.