Posted by Bill Rice - 05/02/06 at 03:05:00 am
If you are planning to enter your Web sites into the 2006
WebAward Competition, you better get moving – There is less than one month to
go until the deadline for entries.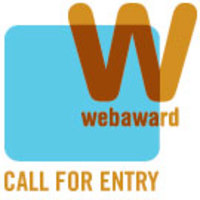 The WebAwards is the standards-defining competition that
sets industry benchmarks based on the seven criteria of a successful Web
site. It recognizes the individual and team achievements of Web professionals who create and maintain outstanding Web sites. The deadline for entry in the
2006 WebAwards is May 31, 2006. A complete list of
past winners and this year's entry form can be found at www.webaward.org.
So if you have the best Web site in your industry and want
to prove it, be sure to get your entry submitted by the deadline. Entries
submitted after the deadline, but before the judging begins will be subject to
a $50 late fee.
No Comments yet
RSS feed for comments on this post. TrackBack URI
Sorry, the comment form is closed at this time.
Powered by WordPress with GimpStyle Theme design by Horacio Bella.
Entries and comments feeds. Valid XHTML and CSS.