Each year at the conclusion of the WebAward program, we ask our esteemed panel of WebAward judges a series of questions to help participants better understand what the judges are looking for and to improve the website recognition program for the next year.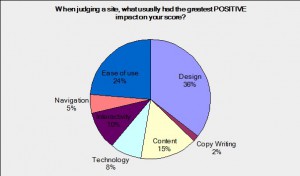 On the survey last year we asked "When judging a site, what usually had the greatest positive impact on your score?" 35.6% of the judges responded that outstanding design was the thing that helped bring up a score. The criteria that had the second most responses was ease of use with 23.7%. Content was in third with 15.25% of the judges relying on this criteria the most.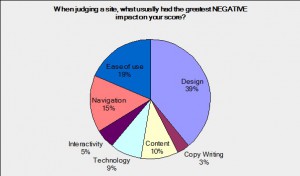 At the other end of the scale, we also asked what had the most negative impact on your scores. Not surprising, 39% of the WebAward judges said that bad design was the top criteria when they scored a site poorly. Ease of use (18.6%) and Navigation (15.25%) also played a factor when the judges felt a website did not live up to its potential.
These results remind us that first impressions are important when developing a website.  Even though the WebAwards uses seven equally weighted criteria to determine a websites final score. Judges are asked to review the site as though they were the target audience. They then add their experience and expertise and understanding of current web trends to provide a score for the entry.
With each entry being reviewed by up to five different judges, we then take the average of the top two scores to determine the entries final score. This way we strive to provide the most fair judging of any awards program available to the online marketing community.
To have your website judged by professionals in the 2017 WebAwards, enter at www.WebAward.org