THE WEB MARKETING ASSOCIATION PRESENTS THIS WEBAWARD
Best School Website
2019
Submitted by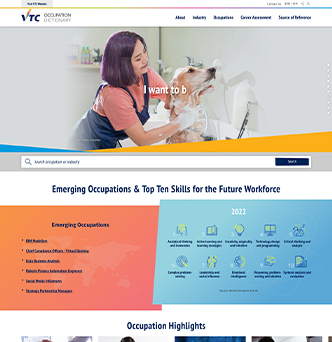 About theOrigo Ltd. & Vocational Training Council
theOrigo is a User Experience Digital Agency based in Hong Kong. We offer digital strategy coupled with award winning UX, visual design and digital technology. We help our clients concept, create, enhance next-generation digital solutions including websites and apps.
About Vocational Training Council
https://occupation-dictionary.vtc.edu.hk/
Occupation Dictionary is a tool that helps students as well as adults to look for information of major jobs in Hong Kong. Information including entry requirements, skills and competencies, duties and work environment, will facilitate their education decisions and career planning.
About the Web Marketing Associationís WebAwards
Since 1997, the Web Marketing Association's annual WebAward Competition has been setting the standard of excellence for Website development. Independent expert judges from around the world review sites in 86 industries. Only the best are recognized with a WebAward. The WebAward Competition is the premier award recognition program for Website developers and the online marketing community.