THE WEB MARKETING ASSOCIATION PRESENTS THIS WEBAWARD
Best Regional Website
2013
Submitted by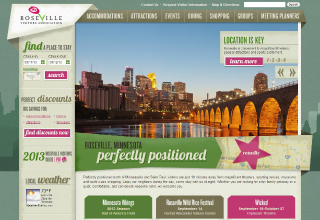 About MICROS eCommerce
http://www.microsecommerce.com
MICROS Systems, Inc. provides leading enterprise-wide applications, services and hardware for the hospitality and retail industries. Serving an extensive portfolio of clients worldwide, MICROS solutions are utilized in over 567,000 hotels, casinos, table and quick service restaurants, retail, leisure and entertainment, fuel and convenience, cruise, and travel operations in more than 180 countries, and on all seven continents. MICROS combines its industry knowledge and expertise to provide cloud-based, mobile and on premise solutions that allow its clients to streamline operations and successfully engage their customers.

MICROS applications include point of sale, property management, central systems, business intelligence, eCommerce, loyalty, CRM, loss prevention, distributed order management, labor management, inventory management, and merchandise planning solutions. MICROS services include hosting and SaaS, platform implementation and integration, strategic business consulting, interactive marketing, design services including creative and user experience, and managed services. MICROS stock is traded through NASDAQ under the symbol MCRS.

For more information on MICROS and its advanced information technology solutions for the hospitality and retail industries, please contact Louise Casamento, Vice President of Marketing at (443) 285-8144 or (866) 287-4736. You can also visit the MICROS website at www.micros.com or send an email to info@micros.com. Follow MICROS on Facebook, LinkedIn, YouTube, and the MICROS Blog.
About the Web Marketing Associationís WebAwards
Since 1997, the Web Marketing Association's annual WebAward Competition has been setting the standard of excellence for Website development. Independent expert judges from around the world review sites in 86 industries. Only the best are recognized with a WebAward. The WebAward Competition is the premier award recognition program for Website developers and the online marketing community.