THE WEB MARKETING ASSOCIATION PRESENTS THIS WEBAWARD
Best Shopping Website
2011
Submitted by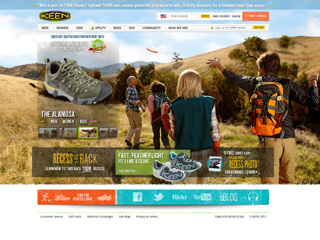 About Wright Strategies
http://www.wrightstrategies.com
For over a decade, Wright Strategies has delivered effective Internet marketing strategies that support the development, growth and success of our clients. We listen to our clients to understand their goals and create personalized marketing strategies based on these needs, while bringing the organization's personality to life online.
About Christa DePoe
KEEN Inc. manufactures hybrid outdoor and casual products, including footwear, bags and socks. Founded in 2003 with the launch of the Newport sandal known for its patented toe protection technology, KEEN creates innovative and comfortable products that transition seamlessly from work to play, and enables people to pursue a Hybrid lifestyle: create, play and care. Through its Hybrid.Care giving program, KEEN supports social and environmental organizations around the world. The company recently launched the KEEN Recess Revolution, encouraging adults to take 10-minute outdoor "Recess" breaks every day to re-energize at work and be healthier and happier. Named one of "America's Best Places to Work" by Outside magazine, KEEN is headquartered in Portland, Ore. KEEN products are available in more than 5,000 retail locations in 60 countries.
About the Web Marketing Association's WebAwards
Since 1997, the Web Marketing Association's annual WebAward Competition has been setting the standard of excellence for Website development. Independent expert judges from around the world review sites in 86 industries. Only the best are recognized with a WebAward. The WebAward Competition is the premier award recognition program for Website developers and the online marketing community.