Posted by Bill Rice - 09/12/16 at 09:09:01 am
The Web Marketing Association is pleased to announce the winners of its 20th annual WebAward Competition for Web site development. Entries from 40 countries were adjudicated in 96 industry categories during this year's competition. Entries were judged on design, copy writing, innovation, content, interactivity, navigation, and use of technology.
A complete list of the winning sites can be found at the WebAward Web site at www.webaward.org.
"Each year, the online marketing community raises the bar in terms of website development," said William Rice, President of the Web Marketing Association. "Website design is constantly evolving to better meet the needs of the online audiences.  This year, the WebAwards competition received remarkable entries from around the world that show impressive creativity and functionality.   We congratulate all of our winners for developing websites that deliver for their audiences. "
Best of Show
The 2016 Best of Show WebAward is presented to BETC Paris for their outstanding work on The End of Society Simulator.  The site was also recognized as Best Entertainment Website and Best Media Website and  Best Mobile Website.
The end of society simulator uses real data to create a hyper-personalised experience of events to set the scene before the launch of Tom Clancy's The Division. Inspired by existing epidemic models with input from emergency risk specialists, the website simulates a global pandemic of the fictional variola chimera virus. The experience starts after the user has been infected when he is asked to type in his address and before being taken through the fall of society's dominos (overwhelmed hospitals, out of stock pharmacies and supermarkets, riots, exodus, global blackout, fall of governments). The simulation demonstrates how quickly the cities and society that we take for granted can collapse even from our own home.
Top Agency
TravelClick, Inc. was named Top Agency at the 2016 WebAward Competition, taking home 29 WebAwards this year. The Top Agency Award is given to recognize the consistently outstanding development going on at interactive firms.  TravelClick provides innovative solutions for hotels around the globe that increase revenue, reduce cost, and improve performance. TravelClick has a worldwide on-the-ground presence that enables us to maintain a deep understanding of local markets in the context of the global hospitality industry. The agency was recognized in the 2016 WebAwards with 15 Outstanding Website WebAwards and 14 Standard of Excellence WebAwards.
Fourteen agencies or companies were also recognized as Outstanding Website Developer for winning six or more WebAwards in 2016. They include:
AGENCY (Number of Awards)
TMP Worldwide 22
Scorpion Design, LLC 20
Miles 12
DEG 11
Risdall Marketing Group 11
SapientNitro 11
Nebo 10
Lyons Consulting Group 9
HKTDC 7
HeBS Digital 7
WSI 7
Positioner SA 6
Springbox 6
UP Hotel Internet Marketing 6
Competition format
The competition was judged by a team of independent Internet professionals representing a variety of relevant disciplines of Web site development. Judges included members of the media, advertising executives, site designers, creative directors, corporate marketing executives, content providers and webmasters.
The WebAward competition format allows Web sites to compete head to head with other sites within their industry to win the Best of Industry award.  Entries also compete against a standard of excellence to win Outstanding Website and Standard of Excellence WebAwards.  Each site is judged on seven different criteria and earns a score between 0 and 70 points.  The highest score in a given category wins Best of Industry for that category. If the remaining entries receive a score of 60 or greater, they receive the Outstanding Web site award. Entries that score higher than their industry average and below 59.9 receive the Standard of Excellence.
The 2016 WebAwards are sponsored by the following leading organizations: Small Army Creative Services, PR.com, ad:tech conferences, EContent Magazine, VerticalResponse, SEO, Inc., Webmaster Radio and Website Magazine.
About the Web Marketing Association
The Web Marketing Association is working to create a high standard of excellence for Web site development and marketing on the Internet. Staffed by volunteers, it is made up of Internet marketing, advertising, PR and design professionals who share an interest in improving the quality of Website development and marketing on the Internet. Since 1997, the Web Marketing Association's annual WebAward, Internet Advertising Competition and MobileWebAward award programs  have been helping interactive professionals promote themselves, their companies, and their best work to the outside world. Now in its 20th year, the WebAward Competition has become the premier award event for Web developers and marketers worldwide.
Posted by Bill Rice - 09/10/16 at 10:09:53 am
Posted by Bill Rice - 09/07/16 at 12:09:37 pm
Enter to win a copy of Domains 360, A new book about the Fundamentals of Buying & Selling Domain Names by Peter Prestipino, Editor-in-Chief of Website Magazine.
To enter, visit the WMA Contest Page before Friday, September 23rd.
Posted by Bill Rice - 09/01/16 at 10:09:24 am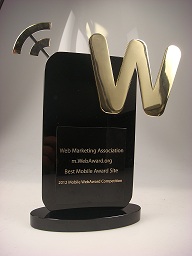 The Web Marketing Association's MobileWebAwards competition is currently accepting entries and is looking for additional qualified judges to help adjudicate this year's award program.  This award program recognizes the individual and team achievements of Web professionals all over the world who create and maintain the best mobile websites and the best mobile applications.   The Competition Web site is located at http://www.mobile-webaward.org and the deadline for entry is September 30, 2016.
To nominate yourself or someone within your organization, please complete the Judge's Nomination Form. Mobile development professionals selected as judges will be contacted during the first week of October.
"Since 1997, the WebAwards have helped define the standards for website development. The MobileWebAwards are doing the same for responsive websites, mobile-specific websites and apps designed for mobile devices," said William Rice, president of the Web Marketing Association.  "Smartphones and tablet computer use continues to explode and companies are racing to be allow users to connect and interact with them using mobile devices. We are looking for individuals who have direct experience developing for the expanding mobile platform. Our judges must have an in-depth understanding of the current state-of-the-art in mobile development, an eye for a well-designed interface and the objectivity to score entries according to a predefined set of criteria".
Judging for the MobileWebAwards will take place in Mid-October, 2016, and winners will be notified by e-mail one week prior to the general announcement of winners in December, 2016. Judges will consist of a select group of Internet advertising professionals with an in-depth understanding of the current state-of-the-art in mobile website design and mobile application development. Past competition judges have included top executives from leading corporations, institutions and media organizations such as Ogilvy Interactive, R/GA , Saatchi & Saatchi, Blattner Brunner, Sun Microsystems, National Cable & Telecom Association, Refinery, Euro RSCG,  A&E Television Networks , New York Post Interactive, Ernst & Young , J. Walter Thompson, Xerox, Art Institute of Pittsburgh, and Aristotle.
Entries will be accepted in both the Mobile Website and the Mobile Application formats. Entries will be judged on seven criteria:
Creativity
Impact
Design
Content
Interactivity
Ease of Use
Use of the medium
"Judging an award show like the MobileWebAwards is a great way to share your experience and expertise with the mobile development community, said Rice. "It is an honor and an important responsibility when you are chosen to participate as a judge. You are helping to set the standard for award winning advertising throughout the Web".
Powered by WordPress with GimpStyle Theme design by Horacio Bella.
Entries and comments feeds. Valid XHTML and CSS.