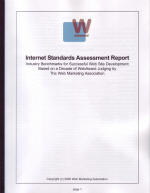 ISAR provides industry benchmarks for Web site development and is based on data collected from more than 18,000 web site evaluations since 1997. The report evaluates average scores in more than 80 industries to create defined benchmarks in seven categories, including design, innovation, content, technology, interactivity, copywriting and ease of use.
In this 117-page study you will learn which industries:
are the best in overall Web development and which are the worst

are the best in each of the seven criteria and which are the worst

has won the most awards

which countries outside the USA have the best Web development
ISAR provides detailed industry by industry commentary and benchmarks in easy to understand graphs and data see how your industry measures up. 2012 WebAward participants will automatically receive update data along with their specific scores to see how they compare within their specific industry.
To receive a free copy of this Landmark report, please complete the form below.